When a plush toy T-Rex is assigned to care for a 27-year-old OCD sufferer, he must overcome his own insecurities in order to defeat the mental illness before his human gives up on life.
MATTHEW'S OCD. JERK.
Although Brian exists in Matthew's head, he'll often be physically represented to the audience as a creature made from Blu Tack. Cunning and manipulative, he is fuelled by fear and anxiety. Brian was born out the domestic violence Matthew experienced as a child and has him convinced that he is evil and worthless.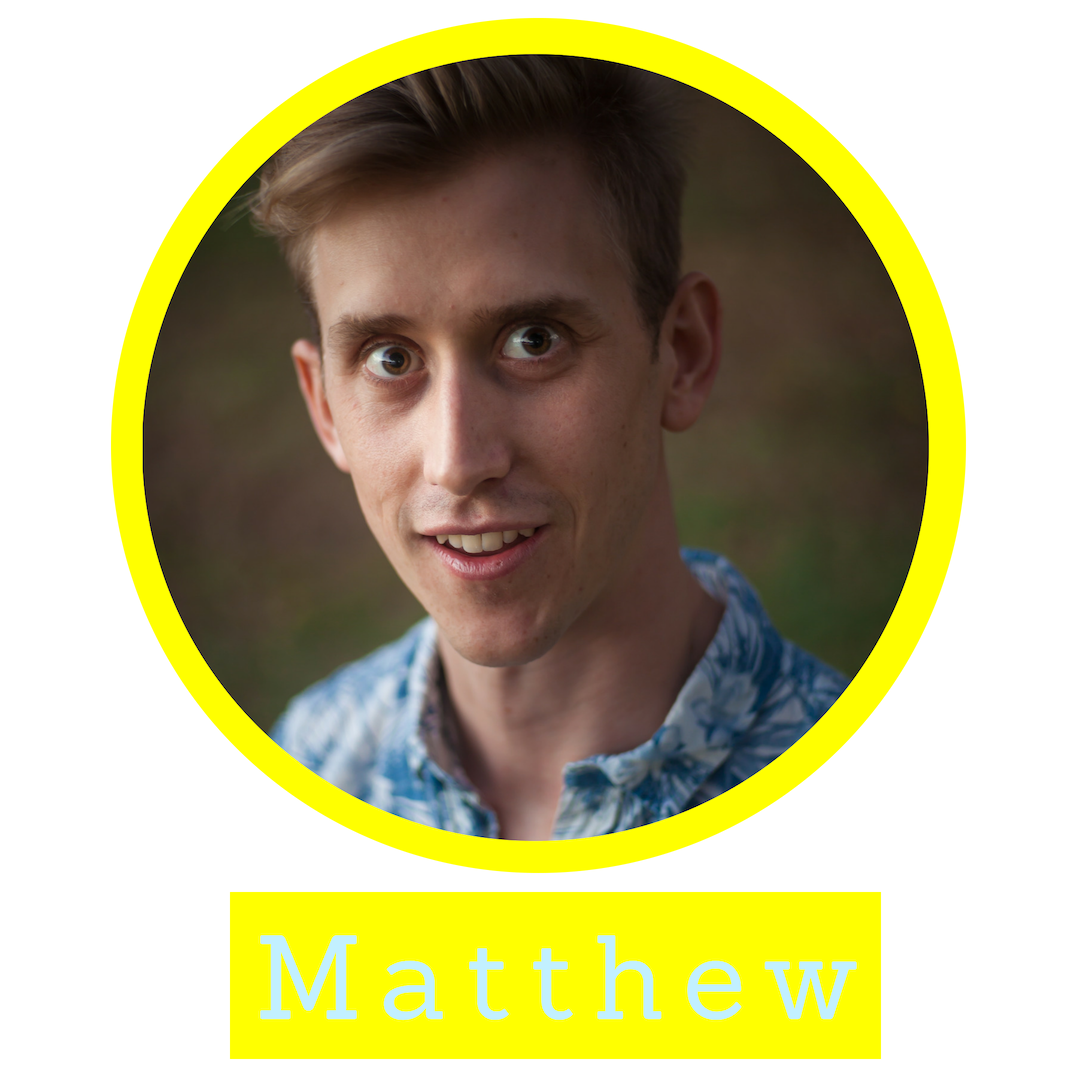 HUMAN. MALE. 27.
Graphic artist. Dinosaur enthusiast. For years, Matthew has suffered from OCD and severe depression. He has tried to kill himself three times and is unable to separate the illness from himself. Matthew spirals in and out of periods of hyper energy and inactivity. He needs to learn to like himself.
PLUSH TOY. T-REX.
Loveable, but a little cocksure, he likes to be the centre of attention. Essentially a teenager, he is the world's greatest babysitter, if the baby is a nine-year-old boy. He strides a fine line between fun and annoying, often barrelling right over it. Pink marshmallows are his fave and he has an impressive collection of (repurposed baby sock) sweaters.
PLUSH TOY. GUINEA PIG.
Mouldy has observed his fair share of human nature and daytime television. His last human child died and he retired from the field. Suffering from guilt and PTSD, he has developed a nasty addiction to iced coffee.
HUMAN. MALE. 52.
cold one with the boys. Tim believes in hard work - you get out what you put in. He built his mechanic business "with his bare hands". Tim loves Pam, it took him forty years to find the one, and he doesn't want to loose her because Zoe and Matthew don't like him. He'll win them over.
HUMAN. WOMAN. 50.
A physiotherapist, Pam is used to being able to help people heal and overcome their ailments. But she can't help her own child and it is tearing her apart. Pam is terrified of being alone and hasn't had much luck with men. They are dicks. At least her current partner is reliable. She's also a lifelong Doctor Who fan.
HUMAN. WOMAN. 24.
A young Asian writer trying to make sense of her life. She works night shifts doing data entry for a chain of newspapers and often struggles to find the energy to get out and about in the day. She LOVES music and can be often found strumming away at her purposely out-of-tune guitar.
HUMAN. WOMAN. 24.
Zoe is one of those infectious people who can change the feel of an entire room depending on how she feels. Like her mother, she tries to always be positive, opting to treat everything as okay even if it's not. She's not afraid to speak her mind and often leaps without thinking things through.
DEMI LARDNER.
Demi Lardner is a comedian based in Melbourne, Australia. Demi's career in comedy at the age of 15 in 2010, and has since won numerous awards at many Australian and international fringe and comedy festivals, including the Director's Choice Award at the 2017 Melbourne International Comedy Festival, and The underbelly Award from the 2017 Edinburgh Fringe. Lardner was also co-writer and director of Wolf Creek, The Musical, which won the Best Emerging Comedy award at Adelaide Fringe 2013.
SEPTIMUS CATON.
Voicing the role of Mouldy is Septimus Caton. Septimus is an actor and composer, known for X-Men Origins: Wolverine (2009), Peter Pan (2003) and Griff the Invisible (2010). He graduated from Australia's National Institute of Dramatic Art (NIDA) with a degree in Performing Arts (Acting) in 1999.
KEVIN SPINK.
Voicing Brian
is Australian/Scottish stage, screen and voice artist Kevin Spink.  Kevin made his theatre debut for the state theatre company of Queensland working with international director Michael Attenborough. Productions that 
Kevin
 has been involved in have travelled to festivals around the world: Palm Springs, Cannes, London International Film Festival, St Kilda, Flickerfest and Tropfest. These films and theatre productions have won national Australian film and theatre awards.
Kevin
 is a sought after voice artist and is represented by the best in both Australia and the UK. Recent project's include's an audio book for a New York Times Best Selling Novel (penguin publishing), a two part documentary for the history channel and six part documentary on the evolution of Trains.
GENRE, INSPIRATIONS & THEMES
PLUSHED is a live-action comedy that takes an honest, fresh, and playful look at mental illness. Inspired by an article (The Dag, the Demon, and the Plush Dino) written by the show's creator, it charts the ever-changing relationship between a plush toy T-Rex carer and his human.
In order to combat severe depression and OCD (Obsessive Compulsive Disorder), Simon Taylor adopted a plush toy T-Rex and gave him a vibrant personality. HANS (named in tribute to Alan Rickman - DIE HARD) is now a full-time comfort aide and mental illness carer. He's also a rising Instagram star, university lecturer, writer and does rather well on Tinder. There will come a time when Simon doesn't need Hans, but for now they are a dynamic team.
PLUSHED will join such series as Please Like Me, Bojack Horseman, Lady Dynamite and Crazy Ex-Girlfriend in bravely shaking off the stigma surrounding mental illness by presenting its raw and ugly true face. It celebrates the immense bravery of someone with severe depression being able to get out of bed, no matter how late in the day, or that of an OCD sufferer being able to leave the house without checking that the front door is locked 22 times.
It's also a series for those who care for, live with or know someone who is mentally ill. Life's tough for them too, and those suffering from mental illness often can't see the effect they are having on the people around them. By presenting both sides of the struggle, we hope to foster open and honest discussion regarding mental health.
PLUSHED will challenge archaic and bullish ideals of masculinity. It'll teach young men that it's okay to admit that they have a problem and seek help. They won't be told to simply 'toughen up' or 'harden up' and expected to shake it off. Boys can no longer be just boys.
WRITER. CREATOR. DIRECTOR.
Simon is a writer, filmmaker and content creator. Working on a variety of corporate and creative outlets, his true love lies in film and television. He has worked in development with a number of Australian production companies including LUDO Studio, Freshwater Pictures and Like a Photon Creative. Simon's short film 1848 won him best director at the Griffith Film School awards in 2011 and has featured in festivals overseas. In 2016, Simon was selected by Screen Queensland to pitch at 37
Degree South and to take part in Screen Queensland's Podcast development program in 2017. In 2018, Simon received Screen Queensland Talent Development Funding for his horror feature script RED RITES.
SCRIPT PRODUCER.
Luke McGregor is a writer, actor, and one of Australia's favourite comedians.  In 2016 Luke presented Luke Warm Sex (ABC), a show that took an embarrassingly honest and humorous look at all things 'sex'.  Luke is the co-creator, co-writer, and star of the smash hit sitcom Rosehaven with Celia Pacquola for ABC TV, for which Luke which won the award for Most Popular Actor at the 2019 TV Week Logie Awards. The third season of Rosehaven aired on the ABC in 2019.
PRODUCER.
Sam Weingott is a producer, content creator and founder of 2CM, a content creation house focused on health & social action.  Sam's experience spans feature films, television series, TVC's and corporate & educational content.  Dedicated to the ongoing development of the Arts, Sam was the West End Film Festival Director for 3 seasons and has recently wrapped as Industry Events Producer for the 2019 Gold Coast Film Festival. In addition to lecturing at Griffith Film School and Canberra University. If not in a cinema, you will find Sam on the ski slopes and one day plans to become a full time ski bum!
DOP.
Ben Cotgrove is an award winning cinematographer with credits including  Maddie & Marc, How to Break a Heart, Freudian Slip,, It's all I know and many stunning music videos..
CO-WRITER.
Clare Sladden is an acclaimed writer/director whose first feature-length screenplay, 'Always the Dressmaker', was a finalist in the prestigious Cinestory Fellowship in 2014. In 2017, Clare was a semifinalist in the Academy Nicholl Fellowship with her screenplay, 'Broken Head', which also won the inaugural Byron Bay Film Festival International Screenplay Competition, and was selected to attend the 2016 Cinestory Fellowship Retreat, where Clare was mentored by Oscar-nominated screenwriter, Meg LeFauve ('Inside Out'). Clare's short films, 'Consent' and 'Dolls', which she wrote, directed and produced, are both award winning, and have screened at Academy-qualifying festivals, including the Palm Springs International ShortFest, the Cleveland International Film Festival, & Flickerfest. 'Freudian Slip', Clare's web series, which she wrote, directed & produced, was released exclusively on the Frankie Magazine website at the end of March 2018, and received over 10K views in its first week online, and now has over 50K views. 'Freudian Slip' was nominated for 'best Australian comedy' at the Melbourne Webfest, and Clare received an AWGIE nomination for her writing on the series.
 EDITOR.
David Peterson freelances as a producer/writer/editor, working with production houses including Hoodlum and Freshwater Pictures. His YouTube channel has gained over 20 million views. Most recently he edited the Screen Queensland-funded horror short "Post Mortem Mary". David loves to create stories that connect with people the world over.
SAY HI TO ALAN!
e: alan@2cm.com.au